Identity and Marginality in Northeast India
Tag: GS-1 Salient features of Indian Society, Diversity of India; Regionalism
In News:
The Northeast region of India is home to numerous ethnic communities who have migrated from different regions. The tendency of conceptualising the region as a single homogenous territory is problematic.
About the Northeast region:
The Northeast region comprises the States of Arunachal Pradesh, Assam, Manipur, Meghalaya, Mizoram, Nagaland, Sikkim and Tripura.
The region has a diverse milieu of population, however the majority of them belong to the Indo-Chinese Mongoloid racial grouping.
The region is as diverse as India itself in terms of linguistic, cultural and ethnic representation.
Northeast: Not a single homogenous entity:
Ethnic diversity: According to the 2011 Census of India, the Northeast region is home to over 200 ethnic groups. The largest ethnic group in the region is the Assamese, followed by the Meiteis, Nagas, Bodos, Tripuris, and Mizos.
Linguistic diversity: The Northeast region is home to over 120 languages. The most widely spoken languages in the region are Assamese, Bengali, Meitei, Nagamese, and Nepali.
Cultural diversity: The Northeast region is home to a variety of cultures, each with its own unique traditions and festivals. Some of the most popular festivals in the region include the Hornbill Festival (Nagaland), the Bihu Festival (Assam), and the Sohra Festival (Meghalaya).
Religious diversity: The Northeast region is home to a variety of religions, including Hinduism, Christianity, Buddhism, and Islam. Northeast India has a major cluster of followers of Christianity.
Historical diversity: The Northeast region has a long and complex history, with each ethnic group having its own unique history and traditions. The region has been influenced by a variety of cultures, including those of China, Myanmar, and Bangladesh.
Colonial conceptualisation of the region: The homogenous construction of Northeast was developed by British colonists for administrative ease.
Social Reality of Northeast Region:
Elements of Heterogeneity: The region of Northeast has several elements of heterogeneity based on experiences, contestations and conflicts of different groups.
Multidimensional issues affecting the society: Social realities of Northeast are influenced by several factors such as indigeneity, policy, economy, migration, land rights, insurgency, militarisation, state violence and laws like AFSPA (Armed Forces Special Powers Act), reservation etc.
Marginalisation: People from the Northeast region often experience marginalisation and discrimination in other parts of India. This is due to a number of factors, including racism, prejudice, and lack of understanding of the region's unique culture and history.
Violence: The Northeast region has a long history of violence, both internal and external. This violence has caused immense suffering and displacement, and it continues to impact the lives of many people in the region today.
Displacement and Land alienation: Displacement is a major challenge in the Northeast region. This is due to a number of factors, including violence, conflict, and natural disasters. Displaced people often face significant challenges, including access to food, shelter, and healthcare.
Condition of Women in Conflict ridden regions:
Consequences of displacements: Conflict ridden areas have seen large scale displacement which impacts health, food, livelihood and economic security, and the long road to rehabilitation.
Women as sole Breadwinners: Displaced households have witnessed women shouldering the entire responsibility of the family. Women became the primary breadwinners due to forced displacement, and/or death of their husbands or other male members of the family.
Health Challenges: Women in conflict zones face a number of health challenges, including malnutrition, post-traumatic stress, and communicable diseases. These challenges are due to factors such as poverty, congested living conditions, lack of awareness, and inadequate healthcare services.
Marginalisation within marginalised groups: Tribal bodies of Nagaland, which elected its first two women MLAs this year, are opposing 33% reservation for women which they claim will infringe on Naga customary laws protected by the Constitution.
Pseudo matriarchy: Popular narratives glorifying the matriarchal structure in Khasi society, in reality are only matrilineal with the power resting with maternal male members, and thus inherently patriarchal.

AI Chatbot for PM-KISAN Scheme
Tags: GS – 2: Social Justice (Government Policies & Intervention); Governance (e-Governance)
Why in News:
Recently, the Ministry of Agriculture and Farmers' Welfare launched an AI chatbot — the first of its kind to be integrated with the PM-KISAN scheme.
AI Chatbot:
Artificial intelligence (AI) chatbots, often known as chatterbots, are a type of technology utilised in messaging apps.
Customers can benefit from this tool's added ease since it uses automated programmes that communicate with users in a human-like manner at minimal or no expense.
Examples of AI Chatbots are Amazon's Alexa and ChatGPT etc.
Key features of AI Chatbot for PM-KISAN:
With the assistance of Bhashini and the EkStep foundation, it has been developed and improved.
The AI Chatbot will help farmers in the first stage of development when they are looking for information about their application status, payment information, eligibility status, etc.
The AI Chatbot is connected with Bhashini, which provides multilingual support, to accommodate the language and geographic variety of the PM-KISAN beneficiaries, and is available through the PM-KISAN mobile application.
The use of cutting-edge technology will improve transparency while also enabling farmers to make wise judgments.
Pradhan Mantri Kisan Samman Nidhi (PM-KISAN):
Beginning on December 1, 2018, the Pradhan Mantri Kisan Samman Nidhi (PM-Kisan) Yojana came into force under the Ministry of Agriculture and Farmers Welfare.
It is a Central Sector Scheme with 100% funding from the Government of India.
According to the programme, all eligible farmer households across the nation get an annual income assistance of Rs. 6000 in three equal payments of Rs. 2,000 each, distributed every four months.
Under the Direct Benefit Transfer Mode, the Rs 2,000 is directly deposited into the eligible farmers' or farmers' families' bank accounts.
A mandatory physical verification of 5% beneficiary every year is being done as per the provisions laid down in the scheme.
Who is Eligible for PM-Kisan Scheme?

Landholding farmers' families with cultivable landholding in their names,
Farmers from both the urban and rural areas,
Small and Marginal farmers families.

Who is Not Eligible for the Scheme?

Institutional landholder,
Present or retired officers and employees of state/central government as well as PSUs and government autonomous bodies,
Beneficiaries with higher economic status are not eligible,
Those who pay income tax,
Farmer families holding constitutional posts,
Professionals like doctors, engineers and lawyers,
Retired pensioners with a monthly pension of over Rs 10,000.
Bima Sugam
Tags: GS – 3: Indian Economy (Fiscal Policy)
Why in News:
Recently, the Insurance Regulatory and Development Authority of India (IRDAI) has formed a steering committee for the creation of the 'Bima Sugam' online platform.
Bima Sugam:
It's an online platform where customers can choose a suitable scheme from multiple options given by various companies.
It will fulfill all insurance needs, including those for life, health, and general insurance (including automobile and travel).
The insurance market will be streamlined and digitalized, from the initial purchase of policies to renewals, claim resolution, and agent and policy portability.
It will address all questions from customers about insurance.
The suggested platform would serve as the policyholder's single point of contact for managing his or her insurance coverage.
In addition to reducing paperwork, the platform will allow intermediaries and brokers to sell products and other services to policyholders.
Insurance Regulatory and Development Authority of India (IRDAI):
IRDAI is a regulatory organization established in 1999 with the purpose of defending the rights of insurance customers.
It is a statutory body under the IRDA Act of 1999, and the Ministry of Finance has control over it.
It oversees the growth of the insurance sector and supervises it, all the while keeping an eye on actions that are connected to insurance.
The IRDAI Act of 1999 and the Insurance Act of 1938 specify the Authority's duties and powers.
India Stack:
IRDAI says Bima Sugam is an electronic marketplace protocol that would universalize and democratize insurance. This protocol will be connected with India Stack.
India Stack is a set of APIs (Application Programming Interfaces) that enables enterprises, entrepreneurs, and developers to use a special digital infrastructure to tackle India's challenging issues with regard to providing services that are presence-less, paperless, and cashless.
It attempts to liberate the population-scale economic primitives of identification, data, and payments.
Aadhaar, an exclusive biometric-based identity system, the Unified Payments Interface (UPI) for immediate digital payments, and the Digital Locker for private document storage are the main elements of India Stack.
When compared to more conventional means, digital transactions made through India Stack frequently have reduced transaction costs. Lowering the cost of carrying out numerous transactions, helps businesses, consumers, and the government.
Mewar school of painting
Tag: GS-1 History and Culture
In News:
Shining the spotlight on the Mewar school of painting
Mewar painting, a prominent school within the realm of Indian miniature painting during the 17th and 18th centuries, belongs to the Rajasthani style and originated in the Hindu principality of Mewar, located in the state of Rajasthan.
Key characteristics of this school of painting include:
Vibrant and Simple Colors Palette: The works of the Mewar painting school are known for their use of simple yet vivid colors, which contribute to their direct emotional appeal.
Historical Origin: The earliest known example of Mewar painting dates back to 1605 CE when a series of Ragamala paintings was created in Chawand, a small town near Udaipur. These paintings were attributed to the artist Misardi and served as a significant starting point for the school.
Notable Collections: Many of the paintings from this series can be found in the collection of Shri Gopi Krishna Kanoria, highlighting their historical and artistic significance.
Expressive and Dynamic Style: The Mewar painting style is recognized for its expressive and dynamic artistic approach, which continued with some variations until around 1680 in the region.
Mughal Influence: After 1680, Mughal artistic influence became more evident in Mewar's paintings, leading to a blending of styles and themes.
Shift towards Portraiture and Ruler's Life: Over time, a growing number of Mewar paintings began to focus on portraiture and depictions of the ruler's life, reflecting the changing interests and preferences of the period. However, religious themes remained popular throughout its development.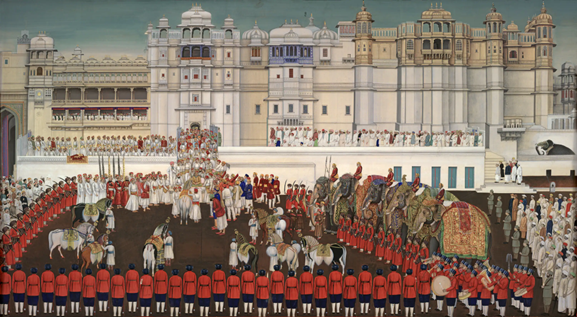 India's First Lighthouse Festival
Tag: GS-3 Economic
In News:
India's First Lighthouse Festival begins in Goa.
About
India's First Lighthouse Festival is set to occur with the objective of converting historic lighthouses into attractive tourist destinations.
It is a component of the 'Lighthouse Heritage Tourism' campaign, which strives to rejuvenate 75 historic lighthouses throughout India and present them as alluring tourist attractions.
These lighthouses are captivating tourism sites, highlighting their cultural importance and economic opportunities.
Five Eyes Alliance
Tags: GS –2 International Relations
Why in news?
The recent India-Canada standoff regarding allegations of Indian government involvement in the killing of a separatist leader in Canada has brought attention to the role of the Five Eyes Alliance.
About:
"Five Eyes" refers to an intelligence-sharing alliance of the United States, United Kingdom, Australia, Canada and New Zealand.
It was founded in 1941.
Origins of the Alliance:

The alliance traces its origins back to World War II when the UK and the US decided to share intelligence after successfully breaking German and Japanese codes.
It began as the Britain-USA (BRUSA) agreement, later evolving into the UK-USA (UKUSA) agreement, with Canada joining in 1949 and New Zealand and Australia in 1956.

Features:

The Five Eyes agreement parties are "diverse societies, governed by rule of law and robust human rights and are bonded by a common language.
These nations collaborate closely on intelligence matters, sharing information to protect their shared national interests.
JP Morgan global bond index
Tags: GS – 3 Economy, Inclusive Growth, Banking Sector & NBFCs
Why in news?
Recently, JP Morgan Chase & Co. has announced the inclusion of Indian government bonds into its emerging markets bond index, effective from June 2024, which will likely to attract 25 billion dollars foreign investments.
About:
The GBI-EM (Government Bond Index-Emerging Markets) is a global bond index maintained by JP Morgan, and it plays a crucial role in shaping international capital flows.
The JP Morgan GBI-EM is a widely followed and influential benchmark index that tracks the performance of local-currency-denominated Sovereign Bonds issued by emerging market countries.
It is designed to provide investors with a representative measure of the fixed income market within emerging market economies.
It Includes government bonds issued by various emerging market countries.
These bonds are denominated in various currencies, including the US dollar and local currencies of the respective countries.
Criteria for inclusion:

Bonds included in the index must meet certain criteria set by JP Morgan, including minimum outstanding issue size, liquidity, and credit quality standards.
The composition may change over time based on eligibility criteria.
Significance of Inclusion:
India will reach a maximum weight of 10 per cent in the GBI-EM Global Diversified Index (GBI-EM GD) as part of the inclusion.
Analysts estimate that the inclusion could result in nearly $26 billion in passive inflows, with the potential for additional active flows of around $10 billion, bringing the total inflows to approximately $40 billion over the next one and a half years.
Perovskite
Tags: GS – 3 Science & Technology
Why in news?
Recently, A team from the University of Surrey discovered that a nanoscale "ink" coating could improve stability enough to make next-generation perovskite solar cells suitable for mass production.
About:
Perovskite is a calcium titanium oxide mineral composed of calcium titanate.
Perovskite solar cells are cheaper, lighter, and more efficient than traditional silicon-based cells.
However, the emerging technology currently suffers from a drop in efficiency and energy output during the manufacturing process.
The researchers identified an aluminium oxide that minimizes this efficiency drop during the conditioning of perovskite solar cells.
Perovskite has been hailed as a "miracle material" for its potential to transform an array of industries, from ultra high-speed communications to renewable energy.
Recent advancements have enabled the creation of self-healing solar panels and improved efficiency when combined with silicon in tandem cells.
This innovation could potentially accelerate the transition to renewable energy sources.
In case you still have your doubts, contact us on 9811333901.
For UPSC Prelims Resources, Click here
For Daily Updates and Study Material:
Join our Telegram Channel – Edukemy for IAS
Visit our YouTube Channel – here