Do you think ChatGPT will revolutionize how we appear tests like UPSC?
In a previous post we talked about our success framework YUVA, resulting from interviews and surveys of hundreds of successful UPSC aspirants. This exam is demanding – its the mother of all exams. The challenges that UPSC selection committee is throwing at the students is phenomenal. And why not? After all they are building nation builders! They need to be the absolute best.
This demand goes way beyond understanding of subject matter and their application. It hits at your core, at your belief system. How well do you understand a concept, its nuances , your vision for India , the approach that you want to take to achieve that vision, the tight rope walk you have to take between conflicting positions. This is not for the faint hearted.
Advent of ChatGPT
But meanwhile, technology like ChatGPT is raising the bar for basic concepts like intelligence. It's revolutionized knowledge and its application. 
Take for example Secularism as a concept. Most coaching institutes will give you a huge dump of information about this subject. This will typically covers the topics such as
History of Secularism in India
Article 25 of Indian Constitution and Secularism
Comparison between Indian vs Western Secularism
Relation with Communal and Feudalism
Good stuff, yes? I asked ChatGPT about each of these topics. And I got extremely coherent and well thought out responses for each. They are long, about 100 words each and I will save you the trouble, but pls check it out at https://chat.openai.com/chat
ChatGPT in action – answering a UPSC question
And here's an actual UPSC question on Secularism to drive home the point
Secularism in India is to be understood at the three levels of the individual, society and the State, which are complementary to each other. Comment.
ChatGPT answer: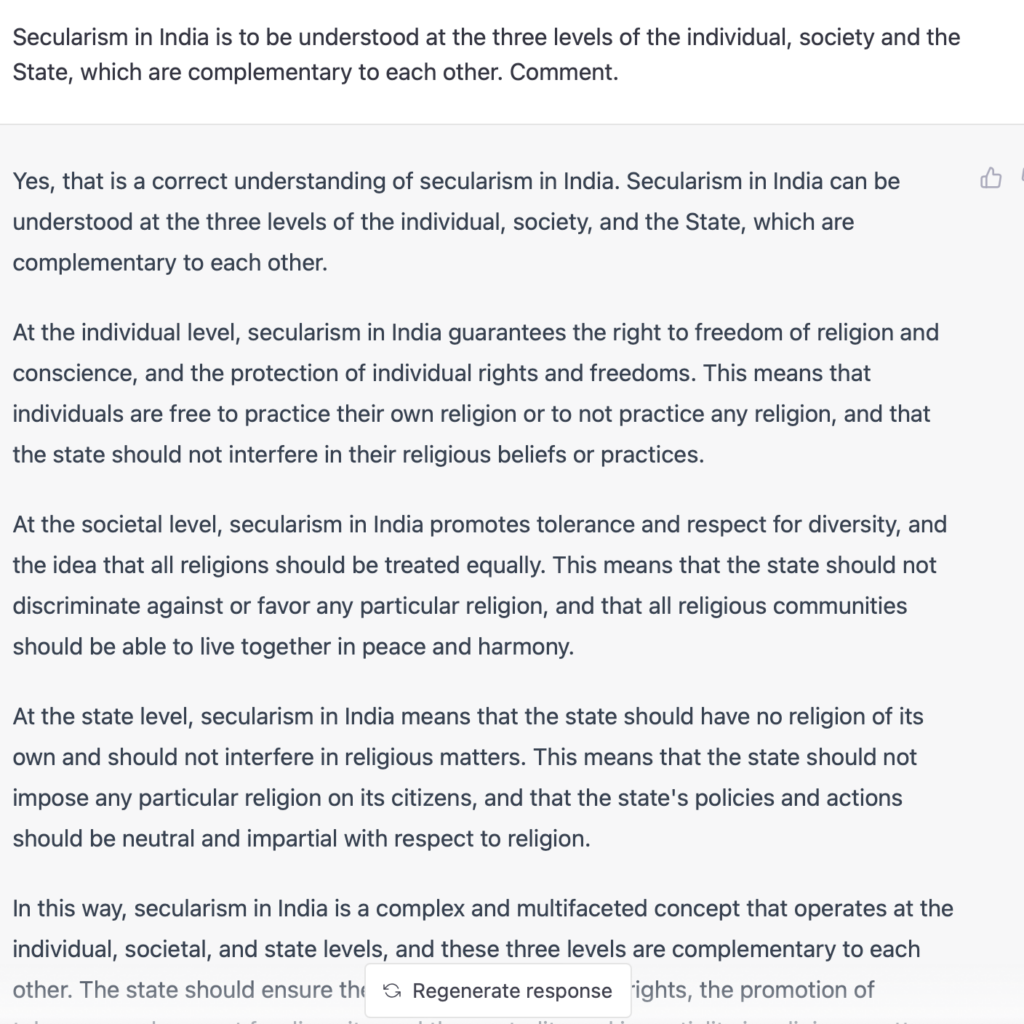 Existing content – rendered unnecessary!
ChatGPT continues to expound on our universe of knowledge to give us an astoundingly lucid summary. Like most of you I was blown away. That gives you a good framework to answer this question, right? Not complete, but enough to get you start thinking about dimensions you may want to cover. Add some citations, facts, and you will have a pretty good answer.
BTW, I compared a model answer from a competitor's website. Very similar to above, obviously written by a content writer. Verified by some teacher and eventually uploaded into the web page. Now with ChatGPT, rendered completely unnecessary!
Application of knowledge has been truly democratized. Answering questions has never been easier. ChatGPT has certainly raised the bar. It's great. But is it only as good as the questions asked to it? Is it limited by the framing of the question itself? Anyone remember Hitchhiker's guide and the question to DeepThought around the meaning of Life? It whirred for a few million years and answered '42'. Hilarious, but very pertinent. 
Raising the bar for Intelligence
This is testing our basic intelligence, our depth of understanding. ChatGPT is already gone deep. Now that enables us to go deeper. We need to know what to ask. In a world of automated knowledge and application, The framing of the question will define the human being. UPSC will raise the bar going forward for sure. The future bureaucrat will not be the one that just knows stuff and can analyze it. Machines are doing that now. 
The future 'successful aspirant' will be one who has a vision and purpose, who understands the nuances, can problem solve, resolve hard conflicts, work with dilemmas , and above all differentiates between cracking an exam and having a dynamic personality, deep understanding, clarity of vision and commitment to achieve them . This is why we made YUVA. It's a reflection of what you need to succeed. 
Ok, so,
Where does this leave the standard YouTube commentator 
Where does this leave content creators, bloggers?
What should Teachers teach now?
How should classroom courses on Secularism look like? 
I would love to hear your comments.