UPSC Mains General Studies Paper – 3 Mains 2020

Conservation, Environmental Pollution and Degradation, Environmental Impact Assessment.
UPSC Mains Civil Services IAS Exam Question Paper – 2020
Decoding the Question
In Introduction, define water conservation and water security.
In Body,

Discuss salient features of Jal Shakti Abhiyaan.

Try to conclude with the significance of water conservation and water security.
Answer
Introduction
Water conservation refers to the preservation, control, and development of water resources, both surface and groundwater, and prevention of pollution. Jal Shakti Abhiyan (JSA) is a time-bound and mission-mode water conservation campaign, launched by the Ministry of Jal Shakti in 2019. It is a campaign for water conservation and water security in India's most water-stressed districts through a collaborative effort of various ministries of the Government of India and state governments.
Salient features of the Jal Shakti Abhiyaan:
Mission-mode water conservation campaign: Jal Shakti Abhiyan (JSA) is a time-bound, mission-mode water conservation campaign. The JSA will run in two Phases: Phase 1 from 1st July to 15th September 2019 for all States and Union Territories; and Phase 2 from 1st October to 30th November 2019 for States and UTs receiving the retreating monsoon (Andhra Pradesh, Karnataka, Puducherry and Tamil Nadu).
Time-Bound Campaign: as a time-bound campaign with a mission mode approach intending to improve water availability including groundwater conditions in the water-stressed blocks of 256 districts. 
Five Targets: water conservation & rainwater harvesting, renovation of traditional and other water bodies/tanks, reuse and recharge of bore-wells, watershed development and intensive afforestation. 
 Efficient water use: The conservation efforts will be supplemented by initiatives like developing block and district water conservation plans and 'Krishi Vigyan Kendra melas' to promote efficient water use for irrigation and better crop choices.
Jan Andolan: Through Jal Shakti Abhiyan, the government plans to run water conservation, similar to the cleanliness drive i.e the Swachch Bharat Abhiyaan. Thus, it aims at making water conservation a Jan Andolan through asset creation and extensive communication.
Community Participation: running through community participation and involving citizen participation during the monsoon season. 
Special Intervention Areas: 5 Special Intervention Areas: Block and District Water Conservation Plan, Krishi Vigyan Kendra Mela ,Urban Waste Water Reuse, Scientists and IITs and 3D Village Contour Mapping.
Conclusion
Jal Shakti Abhiyaan is launched by taking into account various new challenges of water conservation and water security. Water conservation and its security are of utmost importance to achieve targets under sustainable development goals and improve the accessibility of tap water to every citizen. Jal Shakti Abhiyan signifies that the rising water emergency is making India listen to alarm bells and consequently a strong political commitment is coming into place.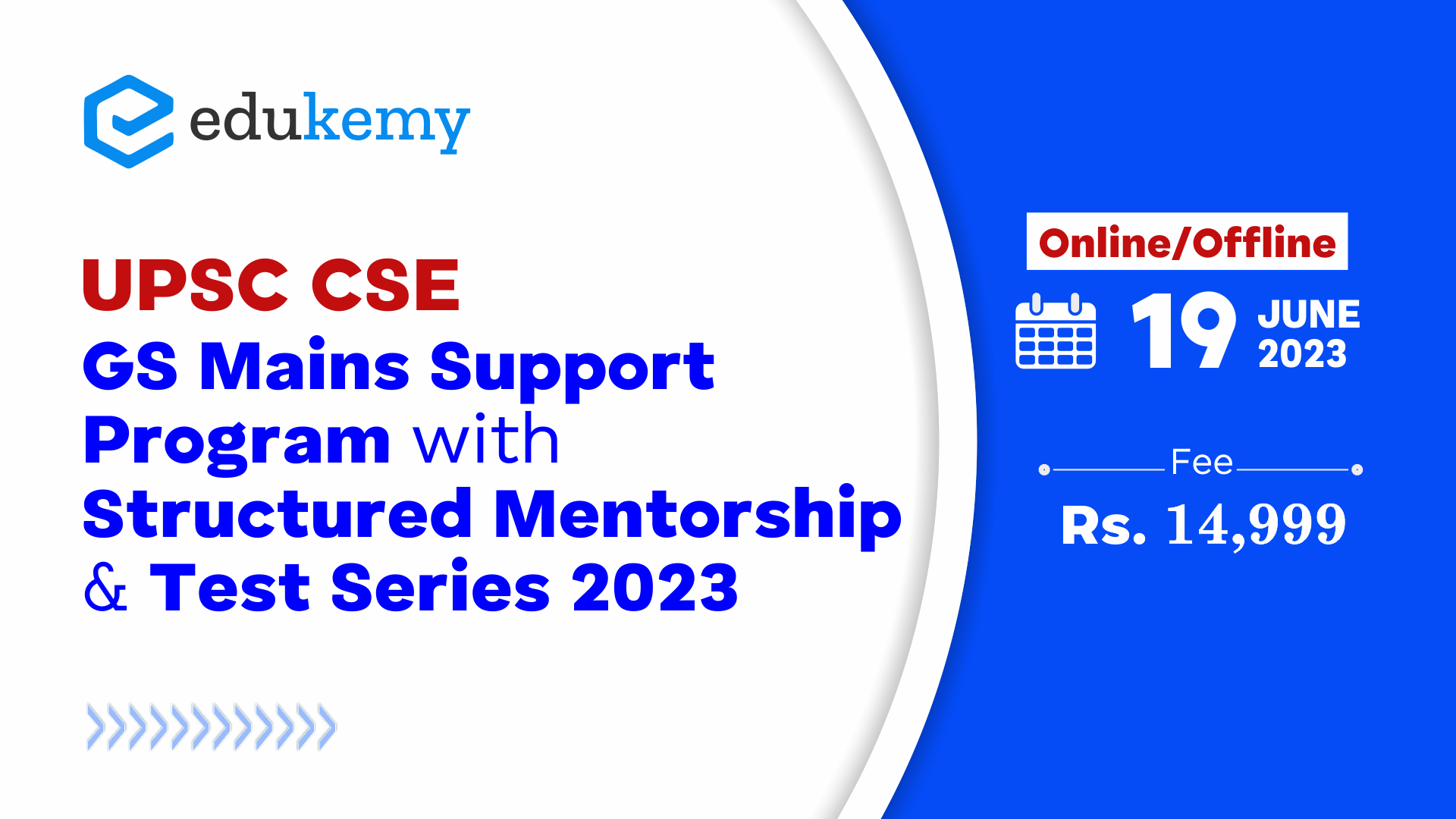 For UPSC Prelims Resources, Click here
For Daily Updates and Study Material:
Join our Telegram Channel – Edukemy for IAS
Visit our YouTube Channel – here