Ridding India of food insecurity requires a multifaceted approach that not only addresses immediate hunger but also ensures long-term food sustainability. In a country with a diverse population and varying degrees of economic disparity, it is imperative to implement policies that promote equitable access to nutritious food. This editorial underscores the importance of enhancing food production through sustainable agricultural practices, reducing post-harvest losses, and strengthening the food distribution network. Additionally, the government must continue to support social safety nets and nutrition programs for vulnerable communities to bridge the nutrition gap. Moreover, raising awareness and educating the public on food consumption patterns and food waste reduction are crucial steps in the fight against food insecurity. Collaboration between government, NGOs, and private sectors, along with a focus on technology and innovation in the agricultural sector, can bring about significant progress in achieving the noble goal of making India food-secure.
Tag: GS Paper-3: Food security. 
Exam view:
Food insecurity; Failed macroeconomic policy; The significance of the Green Revolution; Initiatives to work on. 
Context:
Ensuring that Indians have permanent access to a healthy diet is the most important task of economic policy today. 
Decoding the editorial: Food insecurity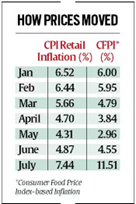 The 'State of Food Security and Nutrition in the World' of the Food and Agriculture Organization (FAO) estimates the figure for India in 2021 is devastating: 

An estimated 74% of the population cannot afford a healthy diet.  
Given a population of 1,400 million, this makes for approximately one billion Indians.  

The trend in the price of food in Mumbai city over 2018-2023 found that while the cost of preparing a thaali at home has risen by 65%, in this period, the average wage of a manual worker rose by 38% and that of a salaried worker by 28%.  
The implied reduction in purchasing power is considerable, and it would be reasonable to expect that food consumption has been impacted.  
The latest National Family Health Survey undertaken over 2019-21 reported a rise in the prevalence of anaemia, mostly induced by nutrient deficiency, which is in line with the above findings. 
This suggests that the FAO's finding, that over half of India cannot afford a healthy diet, is plausible.  
Failed macroeconomic policy
It relied on controlling inflation, which has proved to be useless in the context.  
The Reserve Bank of India has failed in this task, with the inflation rate mostly higher than the target for four years by now.  
Its approach of contracting output when the inflation rate rises, misleadingly termed "inflation targeting", does nothing to manage food inflation stemming from the supply side.  
It is necessary to intervene on the supply side to ensure that food is produced at a steady price by raising the yield on land. 
The significance of the Green Revolution
The government engineered a Green Revolution in the 1960s, which orchestrated a supply-side response by providing farmers with high-yielding seeds, cheap credit, and assured prices through procurement.  
Some mistakes were made: 

The rampant use of chemical fertiliser, fuelled by subsidy, which degraded the soil. 
There was also the reliance on procurement prices rather than productivity increase to ensure farm incomes, which fuelled inflation.  
The policy was almost exclusively focused on cereals rather than pulses, the main source of protein for most Indians.  

India should be focused on correcting these mistakes now and lowering the cost of producing food.  
The first Green Revolution had a specific agenda of making India self-sufficient in food.  
A second agricultural revolution is needed now to contain the rising price of food. 
Procurement prices, cash transfers, the Public Distribution System, and priority lending required of public sector banks are not sufficient.  
Yield increasing interventions on the farm are needed to at least contain the cost of production, if not to actually lower it.  
Initiatives to work on
Attention is needed to extend irrigation to 100% of the net sown area. 

Increased public expenditure on irrigation is not reflected in an increase in irrigated area, whether due to waste or the diversion of funds has not been established. 

An end to restrictions on leasing of land. 

The ongoing fragmentation of already small land holdings lowers the capacity for productivity-enhancing capital investment, for which leasing is a solution. 

A quickening of agricultural research. 

India's network of public agricultural research institutes needs to be energised to resume the sterling role they had played in the 1960s. 

The re-institution of extension. 

Finally, extension has now more or less vanished from where once the gram sevak was a familiar figure in the village, playing a crucial role in the dissemination of best practices. It must be revived. 

Promoting cooperative federalism.  

In the 1960s, the States that were chosen for the spread of the new technology worked closely with the central government.  
This would have to be replicated with the central government taking the States along in a spirit of cooperative federalism.  
At the same time, it may be asked if the States are playing their part to enhance agricultural productivity rather than relying on food allocations to their Public Distribution System from the central pool. 
In order to ensure that all Indians have permanent access to a healthy diet, no approach consistent with ecological security must be off the table.
Source: The Hindu
Frequently Asked Questions (FAQs)
1. FAQ: What is food insecurity in India?
Answer: Food insecurity in India refers to the inability of a significant portion of the population to access sufficient, safe, and nutritious food to meet their dietary needs and lead a healthy life. It encompasses a lack of physical and economic access to food.
2. FAQ: What are the primary causes of food insecurity in India?
Answer: Food insecurity in India is primarily caused by factors such as poverty, inadequate food distribution systems, low agricultural productivity, climate change-related issues affecting crop yields, and limited access to food resources for marginalized communities.
3. FAQ: How can sustainable agriculture help reduce food insecurity in India?
Answer: Sustainable agriculture practices, such as crop diversification, organic farming, and efficient water management, can increase food production and reduce the vulnerability of farmers to climate-related challenges. By promoting sustainability, India can ensure a stable food supply and decrease food insecurity.
4. FAQ: What role can government policies play in addressing food insecurity in India?
Answer: Government policies play a critical role in addressing food insecurity. They can include measures like subsidized food programs, improved public distribution systems, investment in agricultural infrastructure, and social safety nets for vulnerable populations. These policies aim to ensure food availability and access for all.
5. FAQ: How can individuals contribute to alleviating food insecurity in India?
Answer: Individuals can contribute by reducing food wastage at home, supporting food donation initiatives, and getting involved in community-based programs to distribute surplus food to those in need. Additionally, staying informed about food-related issues and advocating for policies that address food insecurity can make a significant impact.
In case you still have your doubts, contact us on 9811333901.
For UPSC Prelims Resources, Click here
For Daily Updates and Study Material:
Join our Telegram Channel – Edukemy for IAS
1. Learn through Videos – here
2. Be Exam Ready by Practicing Daily MCQs – here
3. Daily Newsletter – Get all your Current Affairs Covered – here
4. Mains Answer Writing Practice