The UPSC Prelims 2023 exam holds immense importance in India as a fiercely competitive and highly desired examination. Serving as the initial stage of the Civil Services Examination (CSE), it serves as a key pathway for individuals aspiring to join esteemed civil services such as the Indian Administrative Service, Indian Police Service, or Indian Foreign Service. As the exam date draws near, candidates are diligently preparing to successfully clear the exam and realize their aspirations of securing a coveted position in the civil services.
The UPSC Prelims, scheduled for May 28, 2023, will consist of two shifts. The General Studies Paper I exam will take place from 9:30 AM to 11:30 AM, followed by the CSAT exam from 2:30 PM to 4:30 PM. To aid candidates in their preparation for the UPSC 2023 exam, referring to previous year question papers is highly recommended.
Candidates eagerly awaiting the release of question papers for the UPSC Prelims can find them on the Edukemy's website shortly after the examination is conducted. By downloading the IAS Prelims 2023 Question Papers in PDF format, aspirants can assess their performance, identify their strengths and weaknesses, and gain a comprehensive understanding of the question paper pattern and difficulty level.
The official notification for the IAS exam, containing detailed information, was issued on February 1, 2023. It is anticipated that the UPSC Prelims Admit Card will be released in the first week of May 2023.
Moreover, the UPSC Prelims Answer Key, curated by CSE Experts, will be provided for candidates' reference. This will enable applicants to evaluate their performance and prepare effectively for the Mains exams.
Candidates can expect the release of UPSC 2023 Prelims Question Papers with Answer Keys and Solutions in the near future. To access the UPSC Prelims 2023 Question Paper PDF, kindly utilize the provided URLs.
UPSC 2023 Prelims Question Paper – GS I and CSAT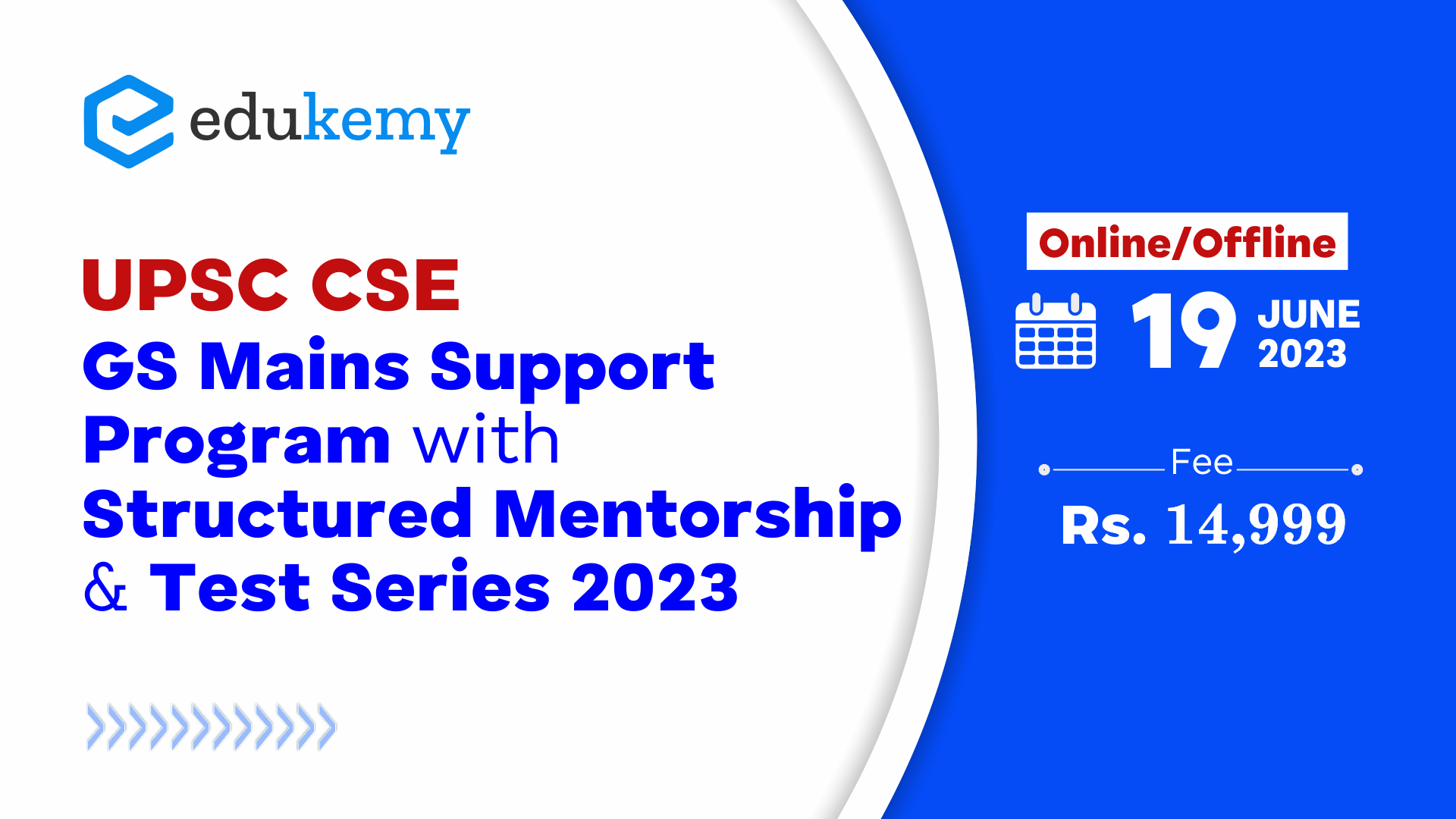 UPSC Prelims Question Paper 2023
The UPSC CSE Preliminary exam, known for its fierce competition, consists of two papers:
Paper 1: UPSC Prelims General Studies
Paper 2: UPSC Prelims General Studies (CSAT)
Both papers, conducted on the same day, hold equal significance, carrying 200 marks each. The duration for each paper is 2 hours. It is crucial for candidates to be mindful of negative marking, highlighting the need for accuracy while attempting the questions. To ensure thorough preparation, aspirants are advised to refer to the IAS Prelims Syllabus, which provides valuable insights into the wide range of subjects covered in the examination.
UPSC Prelims 2023 General Studies Paper 1
The UPSC Prelims Paper 1 is designed as an objective examination consisting of 100 questions, carrying a total of 200 marks. This paper covers a diverse range of subjects, including History, Economy, Politics, Geography, Science and Technology, and Environment and Ecology. The scores obtained in the UPSC Prelims 2023 GS Paper 1 play a crucial role in determining the cut-off and serve as a criterion for qualifying candidates to proceed to the next stage, i.e., the UPSC Mains.
It is essential for candidates to exercise caution while answering the questions due to the presence of negative marking. For every incorrect response, 1/3rd of the total marks allotted to the question are deducted. Therefore, accuracy in answering is paramount to securing a competitive score in the examination.
UPSC Prelims 2023 General Studies Paper 2 (CSAT)
Following the completion of the UPSC GS Paper 1, candidates are required to proceed with the UPSC Prelims Paper 2, which is also an objective type paper. This paper consists of 80 questions, carrying a total of 200 marks. Unlike General Studies Paper I, Paper 2 assesses candidates' reasoning abilities, including comprehension, analytical and communication skills, decision-making skills, problem-solving skills, basic numeracy, and mental ability. Similar to Paper 1, negative marking applies, with 1/3rd of the total marks allotted to each question deducted for every incorrect answer. However, the nature of Paper 2 is different as it is only qualifying, and candidates need to score a minimum of 33% marks to proceed to the next stage.
To gain insights on what to study and how to approach the UPSC Prelims 2023, candidates are advised to review the "One Week Before Prelims Exam" guide.
The UPSC prelims 2023 question papers are invaluable resources for preparation and self-assessment. They enable applicants to practice and understand the question patterns from previous years. The UPSC CSE prelims 2023 question paper is divided into two sections: General Studies-1 and General Studies-2 (CSAT). To practice questions from the past ten years, candidates can download the UPSC prelims question papers PDF with solutions from this article. By reviewing these question papers, candidates can grasp the trends, difficulty levels, and expected questions for the upcoming exam.
Once the exam is successfully conducted, the Commission will release the UPSC prelims 2023 question paper PDF on its official website.
Candidates should exercise accuracy when answering questions in both sections of the exam, as negative marking is applicable.
In addition to solving the current year's paper, candidates are encouraged to refer to previous year's question papers for thorough preparation and revision of the UPSC 2023 prelims. Analyzing past question papers aids in understanding the exam pattern, question types, and difficulty levels. It also helps identify important topics to focus on. Furthermore, solving previous year's question papers enhances time management skills and builds confidence, ultimately leading to better performance in the actual exam.
Significance of Solving Previous Years' Question Paper
Solving previous years' question papers of UPSC Prelims can offer valuable assistance to candidates in several ways.
Firstly, it provides insight into the current exam pattern, allowing candidates to familiarize themselves with the structure and identify important subjects that require more attention.
Secondly, by solving past papers, candidates can assess the difficulty level of the exam and track any changes in the Prelims examination pattern over time.
Furthermore, one of the key advantages of solving previous year's IAS papers is self-evaluation. Candidates can identify their weaknesses, areas requiring improvement, and tailor their preparation strategy accordingly.
Lastly, reading inspiring success stories of previous toppers can serve as a source of motivation and inspiration. Candidates can incorporate helpful tips and strategies shared by successful candidates into their own preparation plan.
The UPSC Prelims marks the initial step towards accomplishing the goal of passing the civil services examination, and solving previous years' question papers can be an invaluable tool in this endeavor.
In conclusion, solving previous years' question papers of UPSC Prelims proves to be a highly beneficial practice for aspirants. It enables them to understand the exam pattern, identify important subjects, evaluate the difficulty level, and track any changes in the examination pattern. Additionally, self-evaluation based on these question papers helps candidates identify weaknesses and formulate a personalized strategy for improvement. Drawing inspiration from the success stories of previous toppers further fuels motivation and provides valuable insights. Ultimately, the UPSC Prelims serves as the crucial first step toward achieving success in the civil services examination, and utilizing previous years' question papers as a tool can greatly enhance the preparation journey.
Download UPSC CSE Exam Result 2022
For UPSC Prelims Resources, Click here
For Daily Updates and Study Material:
Join our Telegram Channel – Edukemy for IAS
Visit our YouTube Channel – here