What is the secret sauce of UPSC success, it's best practices ? What do successful aspirants do best? How do they approach the exam? Well, best is to ask them, get it from the horse's mouth. We did a survey of hundred of successful aspirants. And the results? Insightful, indeed. Read on.
Our questions covered the gamut, but let's focus on the top few aspects below:
Academic Excellence
Work Experience
Timelines of Preparation
Learning Practices
Is Academic Excellence an indicator of Success?
Successful Aspirants exhibited Academic Excellence – over 92% scored above 80% in 10th standard, coming from top colleges in the country.
Not surprising. But what this really means is that good students are also 'better learners'. If you don't have good marks in 10th and 12th, don't fret. We had those too, but they also exhibited qualities of better learner. I will explain in a later point.
Does UPSC look for Work Experience:
Work experience had little or nothing to do with it. About 70% of the surveyed had little or no work experience. The idea is clear. UPSC is looking for moldable minds, young minds. As you grow in age, the amount of unlearning one has to do also increases, exponentially. Our opinions form. While our learnings expands, our ability to be flexible with that learning reduces. Young minds, Impressionable minds, with the right ingredients. They are going to mold you, cook you , bake you to become a nation builder. It's a process.
Timelines of Preparation
Whether you should study full time or part time, how many attempts you typically need. How many years of prep? Here is what we learnt:
Overwhelming number of aspirants were 'Full time' aspirants – over 75%
Only 25% made it in their first attempt.
Most recommend up to 1-2 years of preparation is sufficient to qualify.
Bottomline – You can't do it while doing other things and it's not a walk in the park.
So part time aspirants, its tough. Face it. This is the 'Mother of all exams'. You need to give its due. It's a life changing process. It will build your personality. In a recent post, we talked about our Success Framework, YUVA. We said, its not about a course you take or the classes you attend. It's much much more. Your personality, Your understanding and application, your Vision for the country and your approach to make it happen. All of it has to converge.
Learning Practices of Successful UPSC Aspirants:
This was a revelation. Not much has been done (unfortunately) in the industry to understand this. As you might have noticed, students are served courses, given tests and then largely left to themselves. I wrote in a previous article on LinkedIn about the Learner's Journey where I elaborate this. Here are the typical things students focus on to be successful:
A good timetable, Planning – # of hours for a given subject?, Books and Material , current affairs knowledge and so on..
These are all important areas, no doubt. However, these are NOT the top things to be addressed for your preparation success. Here's what successful aspirants chose as the top 5.
#1 – Consistency in prep – 87% votes
#2 – Overcoming Distractions – 70% votes
#3 – Applying Concepts – 68% votes
#4 – Reading, Writing and Summarizing – 65% votes
#5 – Healthy Lifestyle – 63% votes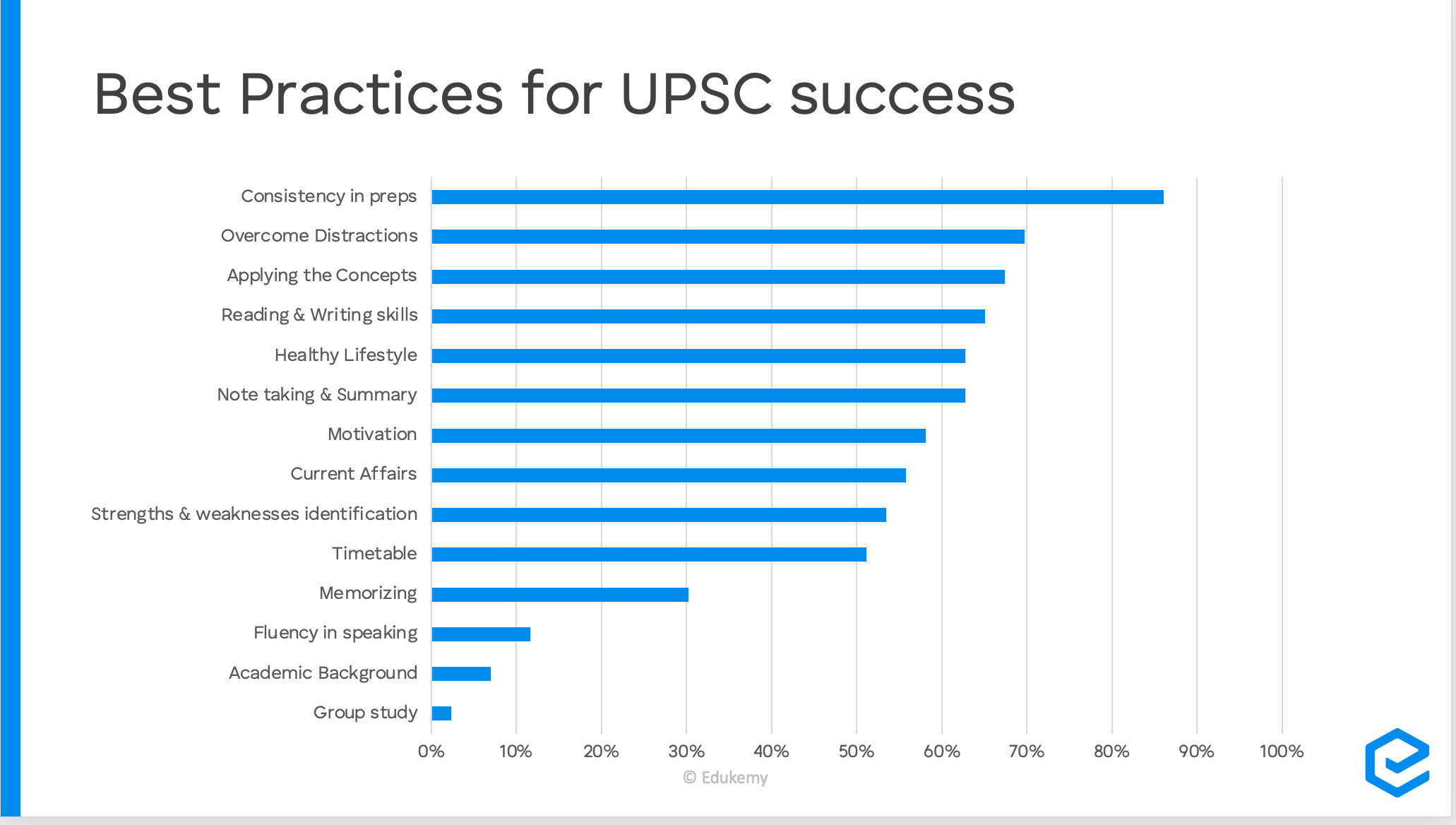 This tells us that successful aspirants are 'Better Learners' first. There is a secret sauce here. Successful aspirants know for example, that if you don't know how to overcome your distractions, you can never keep to a timetable. They understand that rigorous practice, focused on applying concepts learnt in class is important. They invest time in note taking and summarization – reproduction of answers. And they lead a healthy lifestyle, giving time for their brains to relax, to soak in what they have learnt, introspect.
There is a method to the madness. That method is embodying the qualities of a better learner. If you can do this well, success is yours.
Join our Workshops for more such events and webinars where we cover these topics in greater detail.