Thu, 22 Apr 2021
National Climate Vulnerability Assessment Report
In News
The report titled 'Climate Vulnerability Assessment for Adaptation Planning in India Using a Common Framework', was released by Ministry of Science & Technology.
Key Features of the Report
The Report identifies the most vulnerable states and districts in India with respect to current climate risk and key drivers of vulnerability.
The Report has identifiedJharkhand, Mizoram, Orissa, Chhattisgarh, Assam, Bihar, Arunachal Pradesh, and West Bengal as the eight most vulnerable States that require prioritisation of adaptation interventions.

Among all states, Assam, Bihar and Jharkhand have over 60% districts in the category of highly vulnerable districts.

Himachal Pradesh, Telangana, Sikkim and Punjab have been categorised as lower-middle vulnerable states.
Uttarakhand, Haryana, Tamil Nadu, Kerala, Nagaland, Goa and Maharashtra have been categorised as states with low vulnerability.
The major drivers for the vulnerability of all the States included lack of forest area per 1,000 rural population, lack of crop insurance, marginal and small operational land holding, low density of health workers, low participation of women in the workforce, yield variability of food grains, and a high proportion of the population below the poverty line.

The eastern and central states are more vulnerable because of their poverty levels; lack of irrigation; low forest cover in some cases; low adaptive capacity of the health sector.
Conceptualising vulnerability
The Intergovernmental Panel on Climate Change's Fifth Assessment Report (AR5) defines the risk of climate change as the interaction of three factors, namely, hazard, exposure and
'Vulnerability' is conceptualised as an 'internal property of a system'. It represents the propensity or predisposition of the system to be adversely affected, independent of hazard and exposure (Figure 1).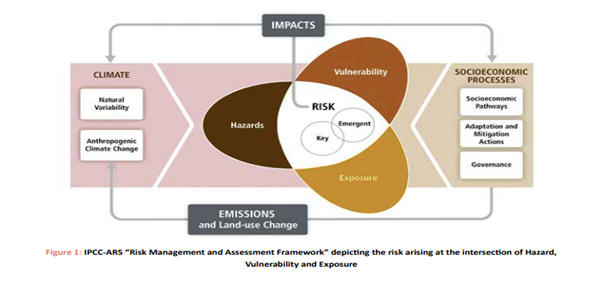 Vulnerability is basically a function of sensitivity and adaptive capacity.

Sensitivity: It refers to the degree to which 'a system or species is affected, either adversely or beneficially by climate variability or change'. This determines the first-order impact of a hazard or stressor on the system.

The effect may be direct, such as a change in the crop yield due to a change in the mean, range, or variability of temperature; or it could be indirect—damage due to an increase in the frequency of coastal flooding owing to sea-level rise.

Adaptive capacity: It is defined as 'the ability of systems, institutions, humans, and other organisms to adjust to potential damage, to take advantage of opportunities, or to respond to consequences'.

For example, if a comprehensive crop insurance system is in place, farmers can cope with the damages to crops caused by hazards such as floods or drought.
India's Vulnerability to climate risks
According to The Germanwatch Global Climate Risk Index- 2019 India ranked 5th out of 181 countries, implying an extremely high exposure and vulnerability.
India had 2,081 deaths in 2018 due to extreme weather events caused by climate change – cyclones, heavy rainfall, floods and landslides.
Overall, India's economic losses due to climate change were the second-highest in the world, with a loss of Rs 2.7 lakh crore.
Significance of the vulnerability assessment
The vulnerability assessment can assist in ranking and identification of the most vulnerable districts and states and help states prioritise adaptation planning and investments.
It is critical for developing adaptation projects for the Green Climate Fund, Adaptation Fund, and funds from multilateral and bilateral agencies.
It will also facilitate Nationally Determined Contributions, which aims to adapt better to climate change by enhancing investments in development programmes in sectors vulnerable to climate change, particularly agriculture, water resources, health sector and regions such as Himalayan region, coastal regions, etc.
It may also aid to plan disaster management.
A vulnerability assessment contributes to reporting under the Paris Agreement through

the assessment of climate change impacts and vulnerability
the formulation and implementation of a National Adaptation Plan, monitoring and evaluation of adaptation plans, policies and programmes
the development and implementation of resilience of socio-economic and ecological systems.
Way forward
A vulnerability assessment is a first step towards adaptation planning. The Report suggests following tasks for the future:
Need for development of climate change risk index, followed by risk ranking of states and districts, where: Risk = function of (Hazard, Exposure, Vulnerability).
Development of a common framework, methodology and guidelines for risk assessment.
All State Climate Change Centres funded by the Department of Science and Technology, Government of India are interested in developing a Risk Index for states. It requires building capacity for risk assessment and adaptation planning.
Generation of data for risk assessment is important. There is need of a strategy for data generation for climate change risk and vulnerability assessment and adaptation planning.
Model Question: A vulnerability assessment is a first step towards adaptation planning. In this context bring out India's vulnerability to Climate risks and explain how a National Climate Vulnerability Assessment is crucial for India's fight with climate change.
Primary Sources
https://dst.gov.in/sites/default/files/Full%20Report%20%281%29.pdf
Secondary
https://www.firstpost.com/india/india-must-prioritise-adapting-eight-highly-vulnerable-eastern-cities-for-climate-change-says-report-9547071.html
https://www.thehindu.com/news/national/eastern-india-most-vulnerable-to-climate-change-says-study/article34367825.ece