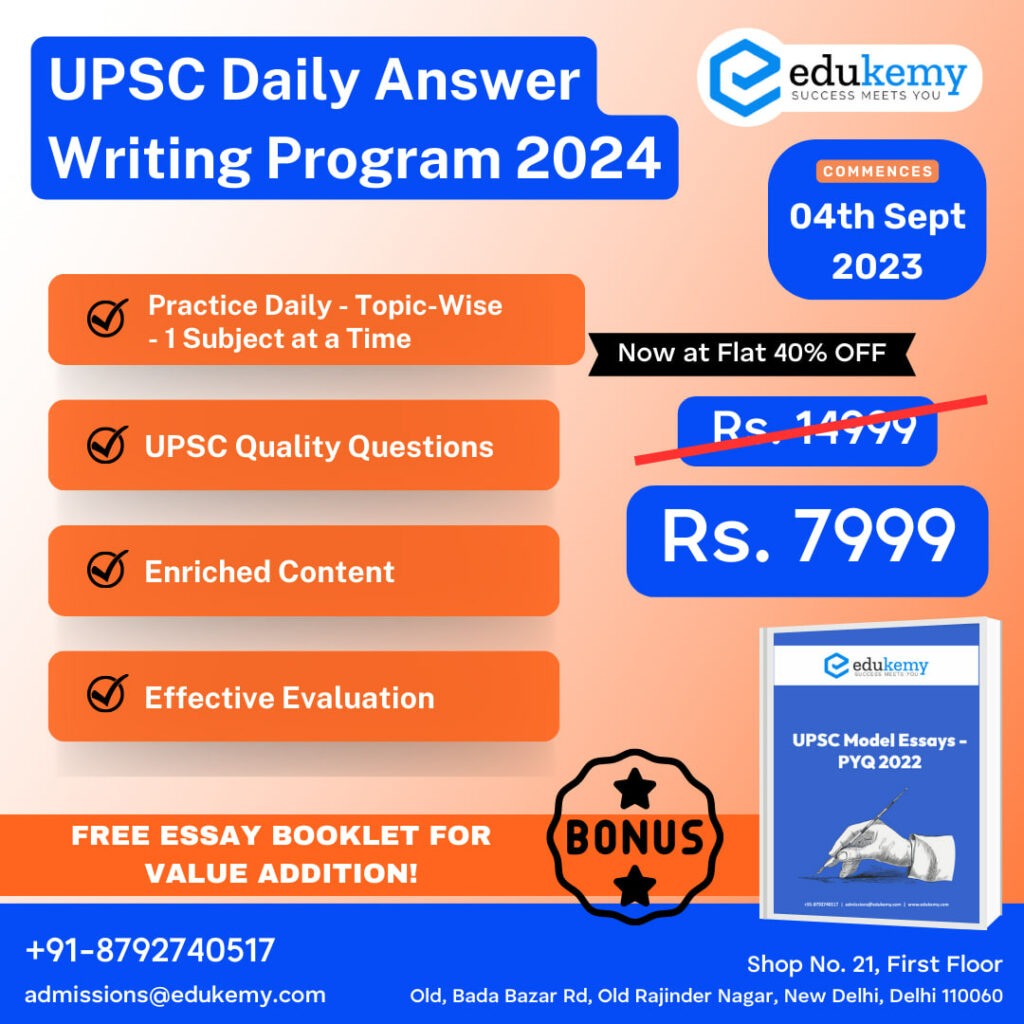 Making effective notes is an essential part of UPSC (Union Public Service Commission) exam preparation, as it helps you condense and retain information for better revision. Here's a step-by-step guide on how to make notes for UPSC preparation:
Choose the Right Tools:

Select the right tools for note-taking, whether physical notebooks or digital note-taking apps. Find what works best for you.

Understand the Syllabus:

Familiarize yourself with the UPSC syllabus and exam pattern to understand what topics are important and need to be covered.

Active Reading:

While studying from books, newspapers, or any source, actively engage with the material. Highlight key points, underline, and make margin notes.

Short and Precise:

Keep your notes concise. Avoid lengthy sentences and paragraphs. Use bullet points, keywords, and short phrases.

Organize Your Notes:

Create separate notebooks or sections for different subjects or topics. This helps maintain organization and makes it easier to find specific information when needed.

Use Headings and Subheadings:

Structure your notes with clear headings and subheadings. This hierarchical structure makes it easier to follow the flow of information.

Highlight Key Information:

Use different colors or highlighting techniques to mark crucial information. For instance, you can use one color for facts and another for examples.

Diagrams and Flowcharts:

For subjects that involve visual information, like geography or economics, use diagrams, flowcharts, or maps to represent data and concepts effectively.

Abbreviations and Acronyms:

Create a list of common abbreviations and acronyms relevant to your subjects for quick reference.

Make Notes on Current Affairs:

Stay updated with current events and create separate notes for current affairs. Include the date and source of the news in your notes.

Regular Review:

Periodically review and revise your notes. This reinforces your memory and helps you retain the information better.

Solve Previous Year Papers:

Make notes of the types of questions that appear in previous year's papers. This will help you focus on relevant topics and areas of study.

Include Your Insights:

Don't just copy verbatim from your sources. Include your own insights and opinions where necessary. This helps you understand the material better.

Digital Note-Taking:

If you're using digital note-taking tools, you can take advantage of features like search, tags, and the ability to insert multimedia elements like images and videos.

Stay Consistent:

Make note-taking a consistent part of your study routine. Avoid procrastination and create a schedule to review and update your notes regularly.

Group Discussions:

Sometimes, discussing and debating topics with peers can help you understand better. Make notes during these group discussions as well.

Mind Maps and Summaries:

Create summary notes or mind maps for each subject or topic to consolidate information. This is especially useful for last-minute revisions.
Importance of Making Notes for UPSC Exam
Making notes for the UPSC (Union Public Service Commission) exam is a crucial aspect of the preparation process. The UPSC exam is one of the most competitive and challenging civil service exams in India. It consists of multiple stages, including the preliminary exam, main exam, and interview, and covers a vast syllabus. Taking notes can significantly aid your preparation for several reasons:
Concise Recapitulation: Making notes allows you to summarize lengthy and complex topics into more concise and understandable forms. It helps you distill the essential information from extensive study materials.
Active Learning: The process of summarizing and writing down information forces you to actively engage with the material. This aids in better understanding and retention of the subject matter.
Organization: Notes help you organize your thoughts and the information you've gathered. You can create structured outlines, mind maps, or tables that make it easier to access and review the information.
Quick Revision: During the final stages of your preparation, you won't have time to go through all your study materials. Notes serve as quick reference guides, allowing you to refresh your memory on key points.
Customization: When you make your notes, you can tailor them to your learning style. You can highlight the most important facts, use visual aids, and structure the content in a way that makes the most sense to you.
Memory Enhancement: The act of writing down information helps with memory retention. You are more likely to remember what you've written than what you've merely read.
Time Management: Note-making encourages efficient time management. You can focus on critical topics and avoid getting lost in irrelevant details.
Integration of Subjects: The UPSC exam covers a wide range of subjects, from history and geography to current affairs and general knowledge. Note-making enables you to connect and integrate information from various subjects, which is essential for the exam.
Practice for Descriptive Answers: In the main examination of UPSC, you are required to write descriptive answers. Making notes helps you practice your writing skills, as you can write concise, well-structured, and coherent notes that mirror the writing style needed for the exam.
Track Progress: You can keep track of the topics you've covered and those that require further attention. This prevents you from missing out on essential subjects and helps you set goals for your study plan.
Revision Schedules: With organized notes, you can create a systematic revision schedule. Regular revision is key to retaining information, and having well-structured notes makes this process easier.
Self-Assessment: Your notes can serve as a self-assessment tool. By reviewing your notes, you can identify your strong and weak areas and adjust your study plan accordingly.
Making effective current affairs notes for UPSC (Union Public Service Commission) or any other competitive exam is crucial for staying updated and preparing comprehensively. Here's a step-by-step guide on how to make current affairs notes for UPSC:
Select Reliable Sources:

Identify trustworthy sources for current affairs information, such as newspapers, magazines, government websites, and quality news apps. Popular sources include The Hindu, Indian Express, PIB (Press Information Bureau), Yojana, and Kurukshetra.

Set a Schedule:

Allocate specific time each day for reading and making notes. Consistency is key.

Categorize Your Notes:

Divide your notes into categories like politics, economy, international relations, environment, science and technology, social issues, etc.

Use a Notebook or Digital Tool:

You can either maintain a physical notebook or use digital tools like Evernote, OneNote, Google Keep, or a simple Word document to organize your notes.

Title and Date:

At the top of each note, write a clear title and the date of the news article. This will help you keep track of the chronology.

Summary and Key Points:

Write a concise summary of the news article. Include the key points, main events, and any related data or statistics.

Analysis and Relevance:

Don't just summarize; analyze the significance of the news. Think about its relevance to the UPSC syllabus, the economy, society, and governance. How does it connect to other topics?

Link to Previous Knowledge:

Relate the current affair to your existing knowledge. How does it build on or contradict what you already know? This contextual understanding is valuable.

Keywords and Terms:

Note any important terms, acronyms, or names. Make a separate section or glossary for these to quickly revise.

Personal Notes:

Include your own insights, thoughts, and questions about the topic. This personal touch will make your notes more valuable during revision.

Use Visual Aids:

Incorporate visuals like diagrams, charts, and maps where relevant. Visual aids can help you understand complex information better.

Keep It Short and Precise:

Avoid lengthy paragraphs. Bullet points, lists, and short sentences make your notes more readable and easier to revise.

Regularly Update and Review:

Make a habit of reviewing your notes at regular intervals. This helps reinforce your memory and understanding.

Current Affairs Magazines and Compilations:

Occasionally, refer to monthly current affairs magazines or online compilations. They provide a summarization of events that are UPSC-relevant.

Mock Tests and Previous Year Papers:

Use current affairs notes to attempt mock tests and previous year's question papers. It will help you understand how well you've retained the information.

Mind Maps and Flowcharts:

For complex topics or events with multiple aspects, consider creating mind maps or flowcharts to visualize relationships and connections.

Cross-Referencing:

If an event or issue relates to multiple subjects, cross-reference your notes accordingly. UPSC questions often test your ability to connect diverse topics.

Stay Updated:

Keep yourself up to date with the latest developments and revisit your notes to include new information.
Strategy to Make Notes for UPSC Prelims
Making effective notes for the UPSC Prelims exam is crucial to consolidate your knowledge and revise effectively. Here's a strategy to help you create comprehensive and organized notes:
Select Your Study Material:

Choose standard textbooks, class notes, and UPSC-specific study materials. Focus on the recommended books and resources to cover the syllabus comprehensively.

Understand the UPSC Syllabus:

Familiarize yourself with the UPSC Prelims syllabus. This will help you focus on the relevant topics and avoid unnecessary information.

Organize Your Study Space:

Set up a dedicated study area with all the necessary supplies, like notebooks, pens, highlighters, and sticky notes.

Use the Cornell Note-Taking System:

The Cornell Note-Taking System is an effective method for creating structured notes. Divide your page into three sections:

Notes Section: Take detailed notes during your study.
Cue/Question Section: Write questions, keywords, or prompts to test your understanding.
Summary Section: Create a concise summary of the main points.

Be Selective:

Don't try to note down everything. Focus on key concepts, facts, and examples. Highlight important points from the text.

Abbreviate and Use Symbols:

Develop a system of abbreviations and symbols to make your notes concise. For example, use 'w/' for 'with,' 'b/c' for 'because,' etc.

Color Coding and Highlighting:

Use different colors for different categories of information. For instance, use one color for facts, another for examples, and another for important terms. Highlight crucial points.

Mind Maps and Diagrams:

Visual aids can be incredibly helpful. Create mind maps, diagrams, and flowcharts for complex topics to make understanding and revision easier.

Include Real-World Examples:

Incorporate real-world examples to illustrate points. This not only helps in understanding but also makes your notes more interesting.

Regularly Review and Revise:

Set a schedule for regular revision. This is crucial in retaining the information. The more you revise, the better you'll remember.

Use Digital Tools:

Consider using note-taking apps or software like Evernote, OneNote, or Notion, which allow you to organize and search your notes efficiently.

Keep Your Notes Neat and Organized:

Maintain neat and organized notes. Use headings, subheadings, and bullet points to structure your notes. Proper organization helps in quick retrieval.

Index or Table of Contents:

Maintain an index or table of contents for your notes, especially if you have separate notebooks or digital files for different subjects.

Practice Previous Year Papers:

Include questions from previous years' papers in your notes. This will help you understand the exam pattern and improve your answer-writing skills.

Stay Updated:

Keep your notes current by incorporating recent developments and news related to the topics you're studying.

Group Discussion:

Engage in group discussions or study groups to gain different perspectives and insights. This can help you improve your notes.

Self-Assessment:

Periodically assess your notes by attempting practice quizzes and tests to ensure you're retaining and understanding the information.
FAQs on How to make notes for UPSC preparation?
Q: What is the significance of note-making in UPSC preparation?
A: Note-making is a crucial aspect of UPSC preparation as it helps condense and organize vast amounts of information from various sources. It allows you to retain and recall essential facts and concepts efficiently during the exam.
Q: What should I include in my UPSC notes?
A: Your notes should include key concepts, facts, and figures, along with relevant examples. Focus on the main points and avoid excessive details. Diagrams, flowcharts, and keywords can also be useful to enhance understanding.
Q: Handwritten or digital notes – which is better for UPSC preparation?
A: The choice between handwritten and digital notes depends on your personal preference. Handwritten notes are often preferred as they improve retention and are easy to annotate. However, digital notes can be more organized and easier to search. Ultimately, use the method that works best for you.
Q: How can I efficiently make notes while reading books or newspapers?
A: To make efficient notes while reading, use highlighters, underlining, and margin notes. After completing a section or an article, summarize the main points in your own words. This process will help you retain the information better.
Q: Should I make separate notes for current affairs and static subjects in UPSC preparation?
A: It's a good practice to maintain separate notes for current affairs and static subjects. Current affairs notes should be updated regularly, while static notes can serve as a foundational resource. This separation will help you revise and stay updated with current events more effectively.
In case you still have your doubts, contact us on 9811333901.
For UPSC Prelims Resources, Click here
For Daily Updates and Study Material:
Join our Telegram Channel – Edukemy for IAS
Visit our YouTube Channel – here