UPSC Mains General Studies Paper – 3 Mains 2020

Food processing and related industries in India- Scope and significance, location, upstream and downstream requirement, and supply chain management. Land reforms in India.
UPSC Mains Civil Services IAS Exam Question Paper – 2020
Decoding the Question
In Intro, try to write about the significance of the food processing sector..
In Body,

Discuss challenges of food processing industries.
Discuss opportunities in the food processing sector.
Explain how the food processing industry will help in increasing farmers income substantially.

Try to conclude the answer with suggestions.
Answer
Introduction
Food Processing Industry (FPI) in India is a potential source for driving the rural economy as it brings about synergy between the consumer, industry, and agriculture. A well-developed FPI increases farm gate prices, reduces wastages, ensures value addition, promotes crop diversification, generates employment opportunities as well as export earnings. Food processing generally includes the basic preparation of foods, the alteration of a food product into another form, and preservation and packaging techniques.
Status of FPI in India:
The Indian food processing industry accounts for 32 percent of the country's total food market, and is ranked fifth in terms of production, consumption, export and expected growth.
Gross value added in food processing increased from Rs. 1.30 lakh crore to Rs. 2.08 lakh crore in 5 years.
Challenges in Food Processing Industry
The Ministry of Food Processing Industries has identified six key challenges faced by the food processing industry: 
Supply Side Bottlenecks: Fragmented holdings result in low farm productivity, Such  lack of primary processing, storage, and distribution facilities at local or village level which results in wastage due to this farmers are left with a small and dispersed marketable surplus.
Demand Side Bottlenecks: The demand for processed food is mainly restricted to urban areas of India.
Infrastructure Bottlenecks: Lack of mechanization, high seasonality, perishability, and lack of proper intermediation (supply chain) results in a lack of availability of raw material. Further, the lack of all-weather roads and connectivity make supply erratic.Due to inadequate infrastructure, more than 30% of the produce from the farm gate is lost.
Informalization in the Food Processing Industry: The food processing industry has a high concentration of unorganized segments, representing almost 75% across all product categories. Thus, it causes inefficiencies in the existing production system.These factors, in turn, impede food processing and its exports. 
Deficiencies in the Regulatory Environment: There are numerous laws, under the jurisdiction of different ministries and departments, which govern food safety and packaging.The multiplicity of legislation and administrative delays leads to contradictions in food safety specifications and guidelines.
Sanitary and Phytosanitary (SPS) Measure: The stringent (SPS) measures applied by developed countries also impedes the exports of processed foods.
Opportunities in the Food Processing Industry:
Size of the industry: By 2025 the food processing sector is expected to be worth over half- trillion dollars. The very size of FPI in terms of monetary value will automatically help in increasing or doubling farmers' income.
Investment: By 2024, the food processing industry will potentially attract $33 billion investment.
Employment: It will generate employment to 9 million people by 2024 which will help to reduce dependence of masses on agriculture and provide them gainful employment.
Multiplier effects: By 2030, Indian Household Consumption will make India 5th largest consumer of processed food. Increased demand for processed food will generate demand and it will lead to multiplier effects.
Urbanisation: Increasing rate of urbanisation and increasing middle class will generate demand for processed food. It will give rise to organised growth of the sector and retail sectors.
Advancement of MSME: MSMEs are playing a vital role in India's food processing chain through various advancements in skills and technology.
Healthy food habits: There is high demand for packaged, healthy and immunity booster snacks such as roasted nuts, popcorns, and roasted pulses. It leads to a shift in focus from loose to branded packaging.
Food Processing Industry & Farmers' Income Correlation:
Virtuous Cycle: FPI creates a virtuous cycle, as first (value chain), it provides the farmer an additional channel to the market beyond the mandi where he can expect better prices for his commodities and an assured off take while ensuring lower wastage. 
Increasing Demand For Agro-Products: Urbanization is increasing at a rapid pace in India, which subsequently, increases the demand for processed food.
Moreover, India is one of the largest producers of food in the world but processes less than 10% of what it produces. Given this, there is a scope of the rise in demand for processed food, which in turn will lead to rising in farmers' income.
Job creation: It warrants local on-farm jobs and near-farm work as local youth are trained for sorting, grading and separating commodities needed for food processing factories. 
Non-food processing industrial activities such as large-scale employment generation in building infrastructure, transportation of food, other maintenance in cold storage systems will also occur. 
High-yield Varieties (HYV) of Food: Indian agriculture is presently dominated by cereals oriented production, but the next phase of income boost for farmers will come from switching to high-yield varieties (HYV) of food like horticulture, dairy, etc.However, the issue associated with HYV is low shelf life. This is where FPI can come into play and subsequently increase farmers' income.
Export: India produces large amounts of fruits, which is much more than what we consume. We could turn this to our advantage if we process the excess produce and tap export markets thus earning foreign exchange. These benefits finally ensure a trickle-down effect on farmers' income. 
Conclusion
Food processing provides an opportunity to utilize excess production efficiently, ensuring food & nutritional security and supporting farmers. Thus, food processing has become an integral part of the food supply chain in the global economy. India being an agrarian dominated country must leverage its potential in the Food Processing Industry. Making villages self-sufficient and promoting industries on village level will increase contribution in India's GDP. Food processing industry will also help in achieving targets – a $5 trillion dollar economy and doubling farmer's income.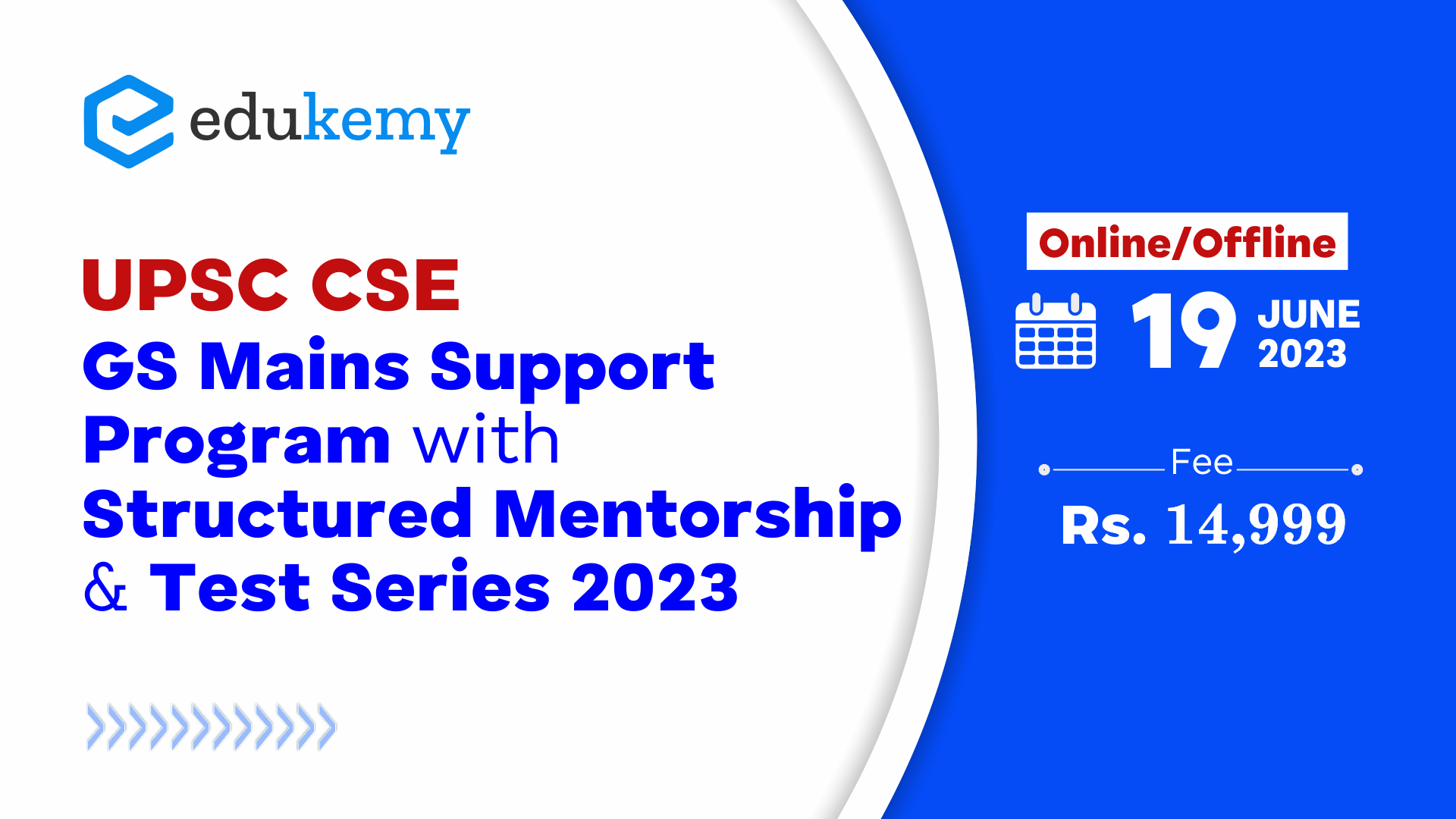 For UPSC Prelims Resources, Click here
For Daily Updates and Study Material:
Join our Telegram Channel – Edukemy for IAS
Visit our YouTube Channel – here